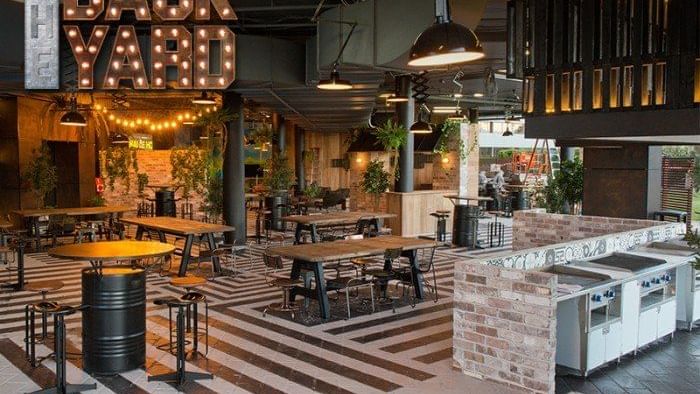 Description
You'll love The Backyard!
Get ready for the perfect barbecue at Panthers. The Backyard, located outside TC's Sports Bar, has been transformed into a summer haven with six barbecues installed.
The beauty of The Backyard is that you can use the barbecues to cook a meal for your family, but you don't have to worry about the inconvenience of buying the steak, the drinks, the ice, or making all the different combinations of salads to please everyone. And don't forget making sure your home BBQ has gas. And the best part of all, you don't have to clean up afterward, or clean the BBQ! It doesn't get much better than that.
At The Backyard, we've taken the stress out of the Aussie BBQ.
We've created a delicious selection of menu items including steak, kebabs, a huge variety of fresh seasonal salads and so much more. Additionally, all our BBQs have a direct line of vision to a massive LCD screen, so you won't miss a moment of the game you're bound to be watching with one eye, while you make sure the steak doesn't overcook with the other.
You'll love the seating too. We've created huge long family dining tables with lots of chairs for all your family and friends. And yes, these tables all have vision to the screens.
If that wasn't enough, we've also recently evened out the grass area of The Backyard. So your kids can now happily and freely run around our fully fenced flat grassed backyard. It's massive and there is a huge kids play area located in the middle of the lawn. For added convenience, we've also created an undercover kids play area inside The Backyard area.
Cook Your Own Menu
thebackyard_bbqmenu_cp
Opening Hours
Monday & Tuesday: Closed
Wednesday: 10am – Late
Thursday & Friday: 3pm – Late
Saturday & Sunday: 11am – Late